Lately it's pretty much all Giants all the time around here. Sorry. In a week, we will have won and you won't have to hear about them for...5 more months. Actually there are a few other things going on in my
six minute mind
these days.
- (Spoiler Alert: Mom, don't read this part) Last night after work I went running out on the trails and it got dark a little earlier than I thought it would. I think it was partly due to the cloud cover and also due to the tree cover. So I was just finishing up my run up the last hill when I saw two pairs of eyes. You know how they reflect in the dark? Two pairs, maybe a foot or two off the ground, but it was hard to tell, as I was going up a hill. I clapped and shouted and made a fool of myself and at first I thought they were coming toward me (and I had a moment of "huh, what the heck am I going to do now?") but then they retreated. Up the hill. Where I needed to go. To go back around the other way, I would have had to go about 5 miles. To go up the hill, I would be back at the parking lot in about .2 miles. So I flapped my arms and clapped my hands some more and they finally went into the bushes. I took advantage of that to get the heck out of there! I could hear them in the bushes and for the entire rest of the way I kept checking behind me to make sure they weren't chasing me.
It was probably just a couple of deer.
Lesson learned. Maybe trail runs should be done a little bit earlier in the day.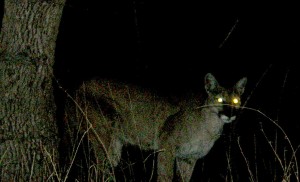 Mountain lion in Tilden Park. Photo by Jim Hale (source)
- My friend's cat died on Tuesday. I went to the animal emergency room with her and we were there until late at night. I don't really know how to deal with with grief or with emotions. I can deal with death, but I have a hard time dealing with the people who are dealing with death. I am the person who is reliable and durable and good at things that are black and white like math, but I am not really good at the grey things, the emotional things and the feelings. What do you say or do? Do you just BE there? Because that I can do, but I am not sure if it's better to talk about other things to take her mind off of it or to talk about it or to let her talk about it or...what!! I feel so inadequate. It's a problem I don't know how to fix.
- Okay I have to throw one Giants thing in here. It is just me, or does Timmy look like that kid from Dazed and Confused?
Do you think they look alike? Or not? It'd be a lot cooler if you did (if you can name who said that you get a golden star!)
Have you ever had to frighten off a wild deer animal in the dark? How are you with grieving friends? Has anyone ever said that you look just like someone else?